(If you're reading this post… this offer is still available!)
Hi guys!
First of all, I want to thank you for giving me such great feedback and suggestions—whether it's one-on-one, via email or on social media.
The Abundant Host is an incredibly unique place on the web.
It is one of the only sites created and maintained entirely by a female (me, Amy!) in the Airbnb hosting space. And I'm very proud of that.
It's also one of the only sites approaches Airbnb hosting from a perspective of abundance, of giving to receive, and of bounty (not lack). This comes from my own background and influences, and my belief that the world is a magical place, and we can create whatever life we choose when we're aligned with our truth.
So, thank you all for your support—and I hope I can continue to support you on your journey as an Airbnb host.
With that in mind, I have an offer you!
If you start hosting on Airbnb through this link exclusive to The Abundant Host community, you'll get $50 dollars from them after you host your first guest.
For referring you, I get $100.
Ready? Let's start hosting! Here's how to get started (and get between $50-200—sometimes this offer actually increases without them telling me about it, see photo below!):

Click on this link, which will guarantee you $50 (or more) after you host your first guest.
You'll see this page: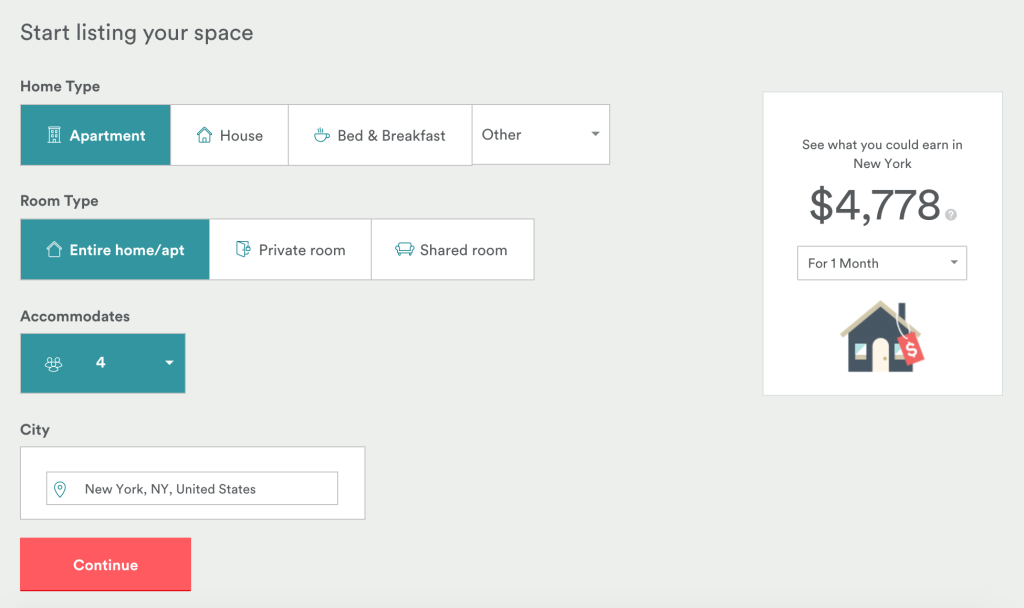 (Let's say you want to rent an apartment that fits four in New York. You'd make the selections above, and hit Continue.)
Make whatever selections apply to you, and click Continue.
After that, Airbnb will give you a handful of other steps to complete to start listing your space. Don't fret about filling these all out perfectly (especially the photos part, as we'll get you some free professional photography later!).
Remember: you must publish your listing and host someone first, before Airbnb will give you the $50.
The Fine Print
Here is Airbnb's page on the fine print for this $50 offer, but here are the most important takeaways to make sure you get your $50 from them!
To qualify for your $50 payout, your first booking must have a value of at least $100 USD, excluding fees such as cleaning fees and taxes. (This is really easy!)
You have 150 days from the date you are invited to complete your first booking in order to earn the $50 payment.
You must accept a reservation from someone else other than family or friends.
If you are based outside the U.S., you will receive the equivalent of $50 in your local currency (i.e., the currency of the payment method that you have selected for payouts).
That's all!
To review, you've got only three steps:
Start hosting by clicking on this link.
Publish your listing (don't worry about filling everything out perfectly).
Host someone… and then receive a bonus $50 from Airbnb!
Sound good? If you have any questions, please feel free to contact me. :) Thank you!
---
Thanks for reading! Have a question that wasn't answered here? If you'd like more specific help, I'd love to work one-on-one with you. Or, if you want to work collaboratively in a group with fellow motivated hosts, find out if the next Abundant Hosting Mastermind group is open. I also wrote a book, Cleaning Up, where I give you the nuts and bolts (and so much more) of finding your perfect turnover assistant, thereby upleveling your profit and success on Airbnb. Have a beautiful day!
Ready to Start Hosting? Here's How to Get a $50 Bonus from Airbnb!