Hello! Welcome to the exclusive resources page for my book, "Cleaning Up"!
Now that you're here, save the URL to this page so you don't need to enter in your email again.
Note: If you've stumbled on this page and are wondering what it's about, it's the companion page to my book, "Cleaning Up: How to Work With a Turnover Assistant to Uplevel Your Profit, Freedom and Success Hosting on Airbnb." Once you pick up the book, this will all make more sense!
Now, let's get down to it! Organized by parts of the book, here are all the links, bonus goodies and resources I promised you.
Part I: The Keys to 
Finding

 Your Ideal Turnover Assistant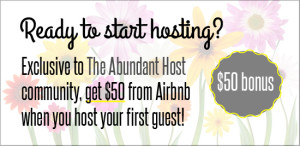 If you're just getting started hosting and you haven't set up an Airbnb account yet, I have a really special deal for you through Airbnb! If you start hosting via this link, as soon as you have your first successful hosting experience you'll receive a $50 bonus. (This link is NOT the "refer a friend" $25 link that everyone has access to. Enjoy!)
I reference my Airbnb consulting in this section. If you're curious about that, I can help you with a Kickstart to Hosting Package or one-on-one consults about anything at all related to Airbnb and hosting.
And here is a list of paid services that do cleaning and turnover. Them being listed here does not mean I endorse them in any way. In fact, I encourage you to hire your own personal assistant. Proceed with caution! Some of them provide cleaners; some of them only recommend cleaners for you.
Part II: The Nuts & Bolts of
Hiring

Your Winning Candidate

The book, Nonviolent Communication: A Language of Life has totally shifted and enhanced my relationships. I like to think of it as a mathematical way of looking at conversation. As you've read in the book, one of the most central themes is sharing your feelings and requests in a way that the other person can hear you (instead of hearing their own defenses.

For example: "When _____, I feel ____ because I value ____. Would you be willing to ______?" This can be so helpful when you get into emotionally charged conversations (and there's so much more to it than just this).

Some other things I talk about in this section are being a Superhost on Airbnb, and their 24-hour response policy. Click those links to get Airbnb's official take.
Part III: In It to Win It:
Training

Your Assistant

None here! Just enjoy the book reading. :)
Part IV:
Managing

Your Turnover Assistant (From Near & Far)

I talked about syncing your Google Calendar with your turnover assistant to keep the two of you coordinated. Here are some sync instructions for every platform.
Part V: The Art of 
Keeping

Your Assistant Around (And Happy!)

I reference giving gratitude to your assistant as something that is extremely healthy for you. Here's some more info on the attitude of gratitude.
Part VI:
BONUS

 Section: Taxes, Back-Up Assistants & When They Leave

Here is Airbnb's resource for information on reporting rental income in the US is IRS publication 527: Residential Rental Property.

And here's how Airbnb taxes work for hosts.

Thank you again for purchasing my book! If you have any feedback, I welcome it. Feel free to email theabundanthost @ gmail.