Like a lot of Airbnb hosts (including myself at one point), you might remember having read about a "one million dollar guarantee."
Yes, you think, Airbnb will insure me against one million dollars worth of damages, no matter what!
Or, maybe this "guarantee" is something your fellow host friends told you about to assuage your fears of renting out your place to strangers. You looked it up briefly and then carried forth, buoyed by the confidence of your host friends (and let's be honest, by the cold hard cash they were making while on vacation in the Mediterranean).
And now… you've probably forgotten about it. Nothing's gone wrong, or only minor things have, and you think you're immune from suffering damages from guests.
Now, while I am a proponent of positive thinking and manifesting your reality… I'm here to give you a positive reality check today.
The "one-million dollar guarantee" is actually not an insurance policy.
It does not mean you will receive up to a million dollars from Airbnb. And, you are actually protected way less than you think.
Okay, breathe. Now, I've found a solution for you.
The solution is called Slice.
Slice provides on-demand insurance for the on-demand economy; as of now, they're available in Colorado, Iowa, Maryland, Massachusetts, Texas and Washington, with their homeshare product specifically for those who rent their places on Airbnb (that's us!), and are adding more states soon.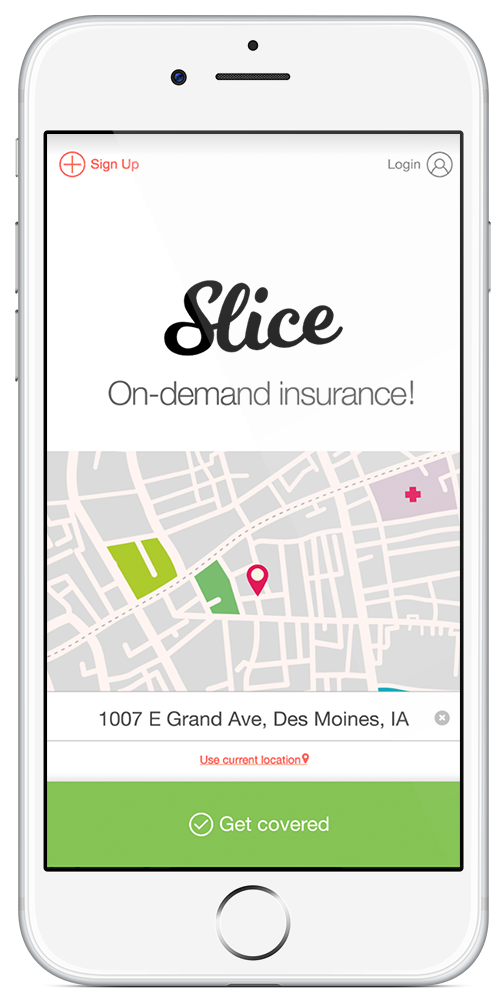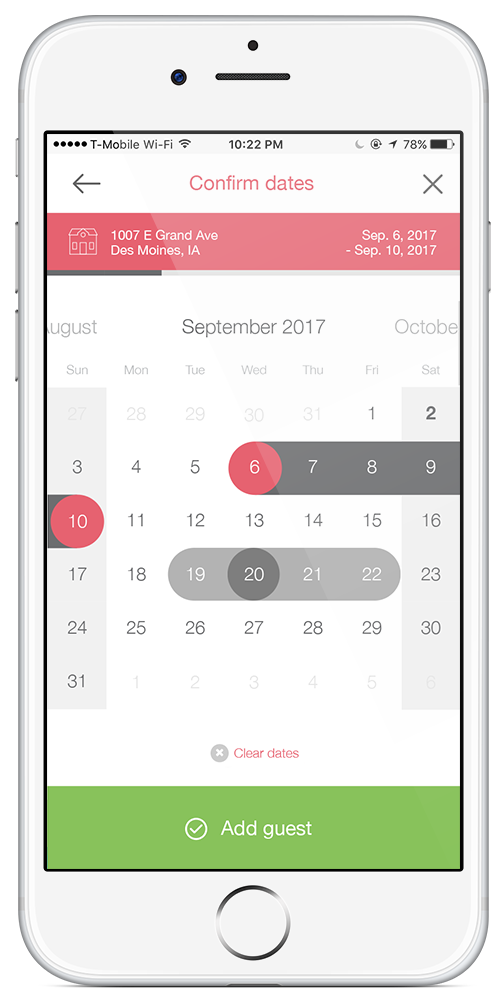 What I love about Slice is that they provide insurance for the specific time that people rent their home—from a single night to a months-long stay. And it's all done through the Slice app or Slice's website.
They're also really out there in the community talking to hosts and getting feedback for their coverages that are tailor made for homesharing, including infestation, loss of income, excess use of utilities (such as internet downloads), vandalism and theft.
The Abundant Host interviewed Slice's Chief Underwriting Officer Michael Fitzgibbon and Managing Director of Marketing Emily Kosick to find out more about Slice. I also interviewed an early Slice customer named David G. Elliott independently, to get the customer perspective.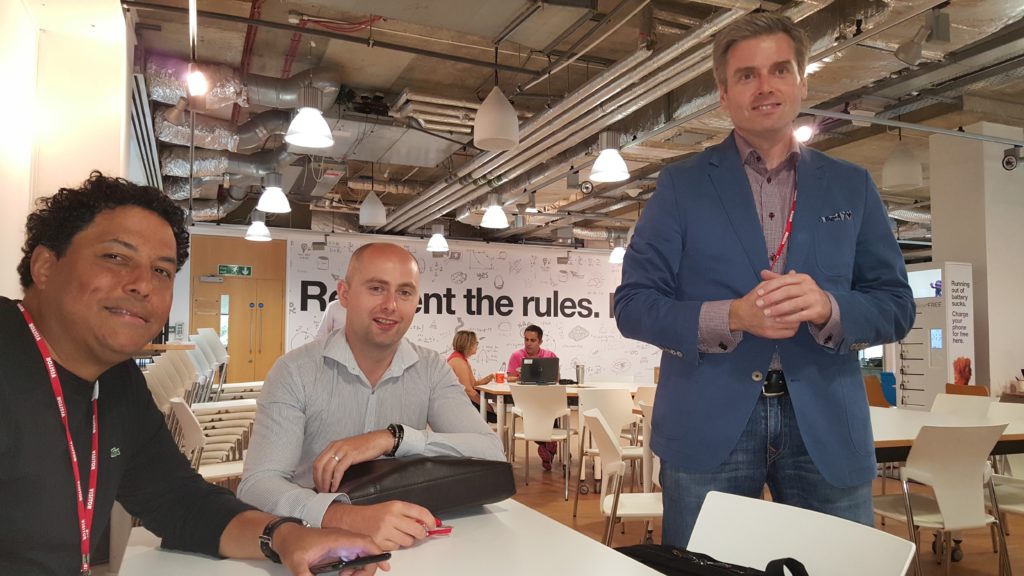 Above from left: Slice CEO Tim Attia, Director of Operations Dawid Glawdzin, and Chief Underwriter Michael Fitzgibbon.
How Slice Is Changing The Insurance Game
Slice bills themselves as a startup insurtech company providing pay-per-use insurance for the on-demand economy that is smart, simple, cost-effective, and can be purchased with a tap. Slice was founded to re-imagine the process from the customer's perspective.
"Our inspiration came from decades of working in the traditional insurance business," said Michael. "It takes a long time to buy an insurance policy, and we wanted to see if we could make it frictionless."
They decided to lean toward the sharing economy because they found a true need for it. With Airbnbs of their own—Tim Attia, Slice's CEO, has a country home that he rents—as well as daily users of Airbnb and/or Uber, they have a lot of exposure to the sharing economy.
Slice makes it easy to get insurance for the exact time that the host needs it.
Michael explains: "The host who's renting would simply download our smartphone app. There is no painful application form; we ask only for your name and address. We underwrite it and give you a quote in seconds. Then, you buy insurance only as you need it, which is billed automatically at the time of rental."
All right, you're probably thinking, this sounds great but—how much does it cost?
Here, my lovely readers, is where you'll be pleasantly surprised.
It costs about $5-7/night—which I think is amazingly inexpensive and reasonable.
Again, you might be wondering about Airbnb's "one-million dollar" guarantee.
Why do we need Slice when we have the Airbnb's Host Guarantee and/or Host Protection Insurance?
"There are two sides to Airbnb's protection: liability and property damage," Michael told us. "The property damage side is the Host Guarantee—this is actually not an insurance policy, even though most people think it is. Here, Airbnb only covers damage caused by the guest, subject to a number of terms and conditions."
Michael tells us that a host first has to present that claim to their homeowner's insurance and file a police report. Plus, the guarantee doesn't cover certain valuables, jewelry and fine arts.
"It's very limited and hard to quantify for," he said.
Airbnb itself says that the guarantee is not a replacement for the host buying their own insurance from an appropriate provider.
I asked Michael if he knew of any real-life examples.
He told us that the Slice crew had met a host whose guest accidentally started a fire in the kitchen; they had and used a fire extinguisher, but of course it did a lot of damage—$12,000 in damage to be exact.
"An insurance policy is obligated to assess that fairly, and make payment," Michael told us. "It's contractual to indemnify the insured. However, Airbnb's terms don't promise indemnification. They will negotiate the claim for as little as possible." In this case, they offered the host $2,000.
All right, but what about that million dollars of liability insurance Airbnb provides?
Michael tells us that the million-dollar limit applies only if no other insurance is available. The policy is subject to an unknown "aggregate limit," which is the total amount of all claims it will pay in a year. With over 640,000 hosts sharing that coverage, it's quite possible the limit will be used up by the time you make a claim.  Finally, the host is not the "Named Insured" on that policy— you have no policy rights or direct relationship with the insurance company.
Airbnb has over 300,000 properties rented per night, which is over 100 million per year. "Enough instances can  happen over that time to use up all the insurance," said Michael.
Phew.
Meanwhile, Slice has been spreading the word about their new service all over the country.
They've been attending host meetups in various cities and went to the most recent Airbnb Open in Los Angeles.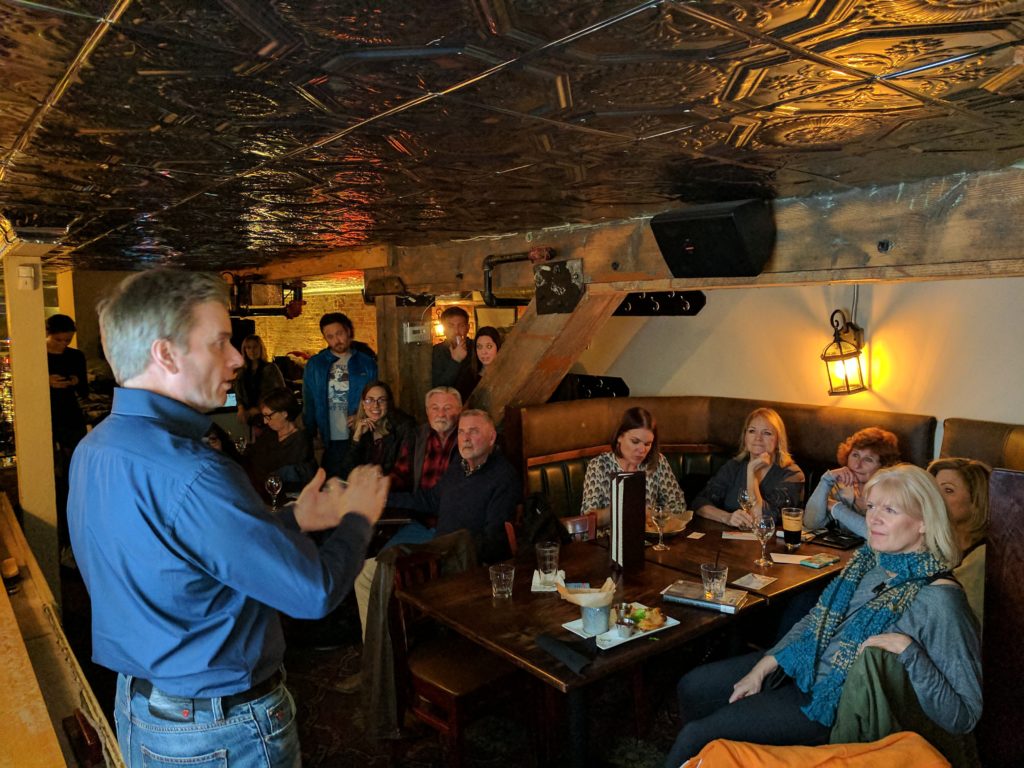 Above: Michael speaking about Slice at a packed Airbnb hosts meetup.
When I talked separately to David G. Elliott, one of Slice's earliest users, he remembers meeting the folks from Slice this way.
"When they were first getting started, they did a test market in Iowa first, to work out the bugs (no pun intended)," David said. "I was able to see what their site looked like and how easy it was to sign up. At $4.75 per night to have the insurance, and you only pay for the nights you have guests? This is a no-brainer."
Slice has 18 different unique homeshare coverages, and every time Slice talks to people about them, there's always someone who latches onto one of those.
"One coverage that people really seem to like is rental interruption coverage," Emily told me. "We talked to people who have had to stop renting for one reason or another (infestation, for example, which we cover). With our rental interruption coverage we'll cover you for the loss of income during the period the place can't be rented out."
David, who's been a host for three years, was surprised by the fact that if you have an incident and you don't have insurance, you have to go to the guest first to recoup your losses.
"My only bad incident (I have over 100 reviews) was a guy visiting for three days who left bed bugs," David said. "I had a bed bug infestation show up 10 days after he left. I tried to talk to Airbnb about it and they told me: I'm sorry, we can't help you with that. Unofficially, they did give me some money to make up for the loss, but technically they said they didn't have to do that. Had I had my Slice policy back then, two of the things that would have been covered under Slice are infestation and days lost that I couldn't rent out my place."
Why Slice Isn't Just Another Tech Startup
To get Slice started, they created the design, pricing and underwriting guidelines themselves, then presented it to Munich Reinsurance Company.Munich Re thought the concept proved to be viable, and the partnership was founded.
"It was innovative, it was on the cutting edge technology-wise, and it could make money," Michael told me.
Michael has been in the insurance business for 30 years as a broker, owning his own agency, and as an underwriter for a multinational insurance company. Michael also spent over a decade with the world's largest risk and insurance management firm, Marsh & McLennan Companies.  
And this is what makes Slice stand out from a typical startup—everyone has a background in both insurance and technology. They're not just tech people with a great idea; they have decades of experience in the field they're trying to innovate.
You can probably guess what Slice's #1 tip for hosts is. But, they did give me a wonderful analogy to help me understand their perspective.
"Truly, there are a few hosts who take the 'ignorance is bliss' attitude by not looking into their coverages," Emily said. "And that's a big mistake because they're putting themselves at a lot of risk."
Michael explained to me the following example:
Which situation would you get insurance for: A single cello player coming to stay with you, or a family with a dog?
Most people say "the family." The folks at Slice talked to a host who was in this exact situation. He knew the cello player very well, she had stayed with him before—yet this family was new, and he figured they could cause some damage.
However, you have to take into account the liability side of it—if the cellist slipped and fell down the stairs, she might never be able to play again, which could affect her job—and that claim could cost over a million dollars. Whereas a dog bumping over a vase is quite little in comparison.
"People often think they 'know someone,' and they wouldn't sue them—but in this case, the cellist would have to replace the income she'd lose," reasoned Michael. "One of the things we've noticed is that people hosting for business really need to think a lot deeper than hosting. Of course, we'd recommend buying coverage for both the cellist and the family."
David genuinely agrees. He says he constantly meets people who say they had an experience where they wished they'd had the kind of coverage Slice provides.
"You can't depend on your own homeowners insurance, because your Airbnb is commercial usage; and you can't depend on Airbnb's "guarantee" either," he said.
As hosts, we are opening ourselves up to a huge financial loss.
"What would happen if a guest left the oven on by accident? There's so much that can go wrong, even not on purpose," said David. "Your name isn't on the policy with Airbnb, so you're at their mercy."
Truth. Thanks so much to everyone at Slice and to David for doing this interview! If you'd like to find out more about Slice, head to their website.
This is a sponsored post. If you're a like-minded and aligned company, product or service and would like to sponsor The Abundant Host through a multitude of avenues including sidebar advertising, posts and more, head here!
---
Thanks for reading! Have a question that wasn't answered here? If you'd like more specific help, I'd love to work one-on-one with you. Or, if you want to work collaboratively in a group with fellow motivated hosts, find out if the next Abundant Hosting Mastermind group is open. I also wrote a book, Cleaning Up, where I give you the nuts and bolts (and so much more) of finding your perfect turnover assistant, thereby upleveling your profit and success on Airbnb. Have a beautiful day!
The One-Million Dollar Guarantee Is NOT What You Think—Here's How to Protect Your Airbnb