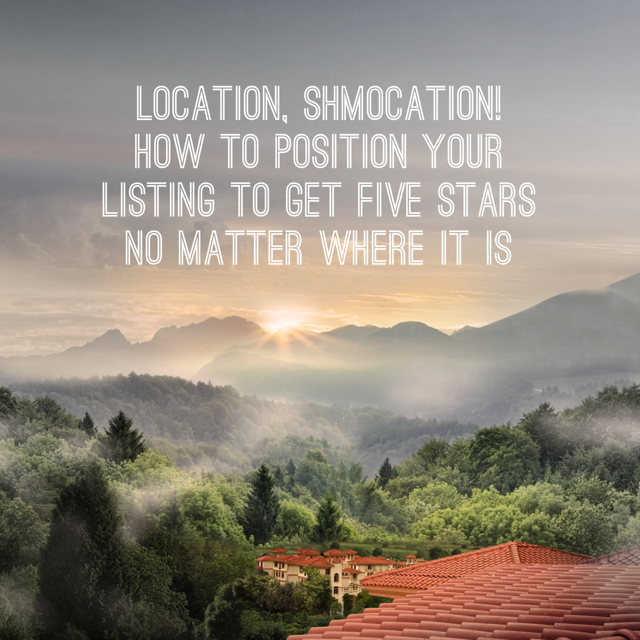 I'm about to say something pretty controversial, so listen up. :)
Even if you live in the middle of nowhere, you can get 5 stars in Location on Airbnb.
Because, like all things, it's not just about what you think it is—in this case, your neighborhood or proximity to the center of a city. It's a combination of factors that we're going to dive into in this post.
I have one caveat before I continue: If we're talking about your guests hearing gunshots at night (a reality in some areas of all countries) and it feels unsafe to you and your guest/s, that's something that will be really hard to counter.
However, if your problem is simply that you live on the far side of town (and you're worried about competing with downtown spots) or you live in a really small town that's not near any big cities, landmarks or "cool" spots… keep reading. I've got you covered.
I'll start with one guaranteed way to not get 5 stars in Location.
And that is to complain about your location. Either in your listing, or to your guests in person or via messages.
How you feel about your location will transfer to how they feel about it.
That being said, here are my top four meaty tips to get five stars in Location:
Be extremely honest about what your location has to offer—and what it doesn't.
The #1 thing I notice when I look at the listing of a client who's getting lower than 5 stars in Location is that they're stretching the truth (which is revealed to me by either their reviews, or a simple Google search).
If you say you live "10 minutes walking distance" from the city center and you live 25 minutes away, that is definitely going to get you just 3 or 4 stars.
Yes, your guests will notice—especially when one of them wears heels because she thought it was going to be a short stroll.
To this you might respond: "Well, other hosts do it all the time!" Sadly, this is true. But, be the standout host who tells it like it is, and you might even out those hosts near you who aren't being honest.
For example, if you are the host in the example I just referenced, you could say (as long as it's all true):
"While I do live 25 minutes or less walk away from the city center, let me tell you—it is a fabulous walk. In fact, I've included a walking map in my Welcome Guide that shows you exactly where you can stop to view the [historic art site], and for coffee on the way to help warm you up. My favorite is the [X] coffee at [Y Cafe]—tell [Ron] I sent you and he'll give you a 10% discount!"
Boom. (Oh yeah, you know that was good.)
Going into thing more deeply on a psychological level—Why is not fudging the truth about your location a good idea?
You set up the frame of reference in your guest's mind for what Location means.
Let me say that again:
You set up the frame of reference in your guest's mind for what Location means.
This is the key to getting five stars in Location no matter where you are.
What that means is: You set the expectations of what Location means, and then you play to your strengths, with 100% truth and honesty.
If that walk is so lovely, I'm going to think of that walk as an added bonus to the location—another thing to do, another perk—and give it 5 stars.
Location can mean inside your home. Pretty it up!
Even after hearing the above, a few of my consulting clients will still come back to me and say: "Yeah, but I'm really, really far away from town. I can't change that!"
My reply is this: Let's say you were right in the middle of it all—but your apartment has cockroaches, the windows rattle when the subway goes by, and it's never quiet for a moment. Do you think that place would get 5 stars for Location even if they're in Times Square (or better put, the West Village)?
Most definitely not.
Remember that location doesn't just have to do with walking out the door and being able to buy a bagel (okay, enough with the New York analogies).
If your "location" is one in which they're greeted with flowers, chocolates and bath salts for a hot bath and firewood for the fire place… that is an awesome "location," my dear!
Location can mean the grounds of your home. Spruce it up!
I remember one of my favorite Airbnbs I stayed at in Colorado. The house was gorgeous, but it was definitely out of the center of town. It definitely was not in the best physical location.
But, my absolute favorite thing about the house was the garden in the backyard. The host, a lovely woman who also lived in the home in which we rented a room, said we were free to pick anything we wanted and eat it. As it was August, it was a serendipitous time to be there, and every evening—though I'm normally someone who loves checking out the best restaurants everywhere I go—I looked forward to coming home and picking everything for an amazing huge salad—fresh lettuce, lemon cucumbers, tomatoes (GAH SUMMER TOMATOES NOM NOM), delicious herbs, etc.
Often, our host would sit outside with us as we drank rosé and ate our epic salads, and we'd share stories and talk about her gorgeous garden as the sun set.
Because of this, I'd say it was one of the most memorable Airbnb experiences I've ever had. And it was nowhere near the happening area of that city—in fact, it was in a completely suburban neighborhood with nothing nearby but a strip mall.
But, did I give that place 5 stars in Location?
You can bet your summer tomatoes I did.
Mention your five-star review explicitly in a message to them.
The reason I say to message your guests instead of tell them in-person, is that people tend to forget the exact wording of things. If they have it in actual text through Airbnb or their phones/email, they can see that they've passively agreed to something.
A passive agreement in this case goes something like this:
Let's say you check in with them and everything is going swimmingly. Wonderful! Now, you can send them the following message (or your wording of it):
"Hey [Name]! I'm so glad to hear that you and your wife are loving the place. I just wanted to send a quick message to say that if you feel that anything is lower than a 5-star experience all around for you, please let me know so that I can try to remedy it as soon as possible. Thank you and enjoy the day! I hear it's 80 degrees there in [City]—so beautiful! Feel free to take my bike and explore it in the sunshine. :)"
(This of course is an example message of what the Feels-Like-Home Host, one of the three types of hosts, might write.)
If your guests say nothing, they are passively agreeing to give you five stars (provided of course, it truly is a 5-star experience). In this case, it's a bit unethical (in my opinion) to directly ask someone for 5 stars or especially to bribe someone into giving them.
Those are my top tips, guys! And remember, don't get down on yourself about your location—if you do, the guest will feel that and you're sure to manifest exactly what you think about your own listing.
If you'd like to talk to me more about your specific listing and dive into what you could offer to level up your Location stars—contact me. :)
---
Thanks for reading! Have a question that wasn't answered here? If you'd like more specific help, I'd love to work one-on-one with you. Or, if you want to work collaboratively in a group with fellow motivated hosts, find out if the next Abundant Hosting Mastermind group is open. I also wrote a book, Cleaning Up, where I give you the nuts and bolts (and so much more) of finding your perfect turnover assistant, thereby upleveling your profit and success on Airbnb. Have a beautiful day!
Location, Shmocation! How to Position Your Listing to Get Five Stars, No Matter Where It Is