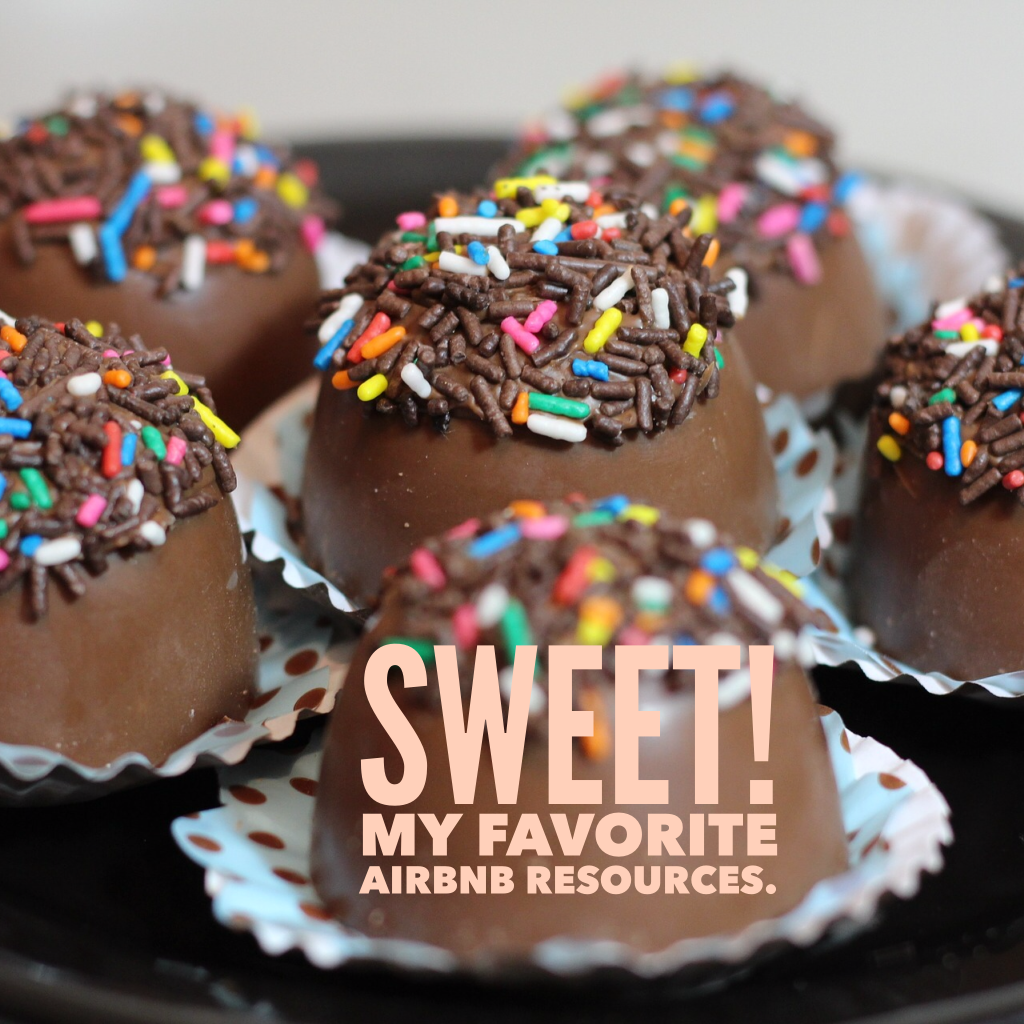 You've found the awesome page!
Here are my favorite Airbnb host tips and resources for creating, maintaining and growing a lucrative, five-star listing.
Please note some of these links may earn affiliate income for TheAbundantHost.com. As I believe in transparency, I want to share that an "affiliate link" means that I may get a small commission if you choose to purchase or participate in paid services that I link to (with no extra charge to you). Thank you in advance—I know you can click on these links from elsewhere, and I'm truly grateful for your encouragement and support.
Welcome Essentials
The Total Newbie's Guide to Airbnb Hosting
If you're brand-new to Airbnb hosting, here's a great place to start! I wrote this post with the beginner in mind, so if you're feeling nervous or overwhelmed this post will walk you through the first steps (with screenshots)!
High-Quality, Sturdy Lock Box
This is an absolute necessity. Guests don't have to stick to a schedule when arriving and it's way easier on you, especially when you're traveling and handling multiple check-ins while you're away. Don't worry—you can do plenty to personalize your experience even if you don't meet your guests (my guests constantly tell me they feel as though they know me, even though they have never met me in person). Here is the exact lock I use—it's roomy enough for multiple keys, the numbers turn easily, and it's super easy to open. I highly recommend this one; I've bought others and have been disappointed in their quality. ProTip: Instruct guests to open it "like an oven door"—pull down and outward.
Welcome Packet
This is absolutely mandatory if you want to be an Abundant Host. Your welcome packet can include many things, but at the bare minimum:
House Info & Rules Guide: where you list all important information, your house quirks, plus all the rules you wish to be respected
Your personal city guide: I cannot count how many times guests gushed to me about how much they loved my personal recommendations! I listed things with two metrics: 5-Minute Walk From My House, and My Absolute Sky-High favorites. I had a couple write in my Guestbook: "We went to [insert my favorite restaurant] for our 2-year anniversary. It was divine!" Reading these kinds of things feels so good to me and really makes me feel connected to my guests.
Maps of your area (bike maps, walking maps, larger picture maps), local magazines, and goodies (free yoga class passes, etc.).
A lovely folder or binder to put all of this in!
Give me a call and I can help you get together all of these plug-and-play documents.
Locally Made Treat
In addition to my welcome packet, I leave guests a locally made dark chocolate bar. Leaving quality dark chocolate is a great because it is vegan-friendly (my listing represents my place as being health conscious, so I tend to attract health conscious people). With this being said, of course, cater to what your city is known for. Are you in Wisconsin? While you might be tired of the cliche, your visitors won't be and would delight in having a locally made cheese to munch on upon arrival.
For Continuing Education: The 5 Best Websites & Resources for Hosts
Here is a curated list of the best websites, advice, writing and goodies from Airbnb industry experts. They all showcase original writing and advice that can't be found elsewhere; are inspirational, authentic or connection-based; offer incredible value in their free resources/posts (whether or not they also sell a product); are sites dedicated exclusively to helping hosts, not one-off pieces on big websites; and aren't the blog of a paid tool or app intended merely to drive traffic toward the product.
If you're looking for quality advice, these five free resources merit your meticulous note-taking!
Behind-the-Scenes Extras
Your Own Airbnb Listing Website
Once you've created a 2-3 word title and exact phrase that you always use to reference your wonderful listing (and you've learned why you should do that from my free guide, yes?), go the extra mile and buy the domain name! It's super simple with the hosting provider I use and adore, Bluehost.
For example, if you continually refer to your place as your "cozy Asheville abode," you can go over to Bluehost, purchase the domain "cozyashevilleabode.com" and hosting (from months to years, though I recommend years as it will lower your payment price), and easily set up a simple WordPress page. It will gain you more traffic from people searching for a place to stay outside of Airbnb, it will give you more authority and placement in Google (my three word search alone not in quotation marks lands me as the first result!), and you can even link your personal "$25 off" Airbnb code on the site as well, thereby earning you $25 in travel credit on Airbnb (to see how I make this work, take a look at the right column of The Abundant Host home page).
If you decide to go with Bluehost, this link will get your hosting discounted down to $3.95/month. They're what I use for all my sites, and they have extremely responsive customer service. It's also super easy to set up WordPress through them as well, in that you don't need an FTP client/server, you just install WordPress on Bluehost with a two-click process.
If you are not a coder, you definitely want to choose Bluehost. I've called them before for urgent questions; every time I do, real people answer and help me immediately. (For a nitty-gritty, detailed process on exactly what to do once you're over at Bluehost, this is a good step-by-step article.)
Pricing & Analytics Tools
Beyond Pricing is a neat tool that lets you use the kind of sophisticated technology that hotels and airlines use to automatically adjust your prices on Airbnb. Ian McHenry, the co-founder and president, told us in our interview with him that hosts who use Beyond Pricing have seen their revenues increase by at least 10%, and usually by over 40%, by filling more nights when demand is low and increasing prices when demand is high.
This industry is still so nascent and growing so fast, and new tools like this are springing up left and right—I want to make sure that at The Abundant Host, we cover things like this to add more meaning and context to these tools so you can make the decision that's right for you, your listing and your guests. You can find more information in our interview, where we dive into Beyond Pricing and Ian's personal story of hosting and what it means to him.
Airdna aims to help improve your vacation rental property income using Airbnb data. When you grab one of their Airdna Intelligence Reports, they give you: Seasonal Airbnb Rental Demand Trends, Estimated Rental Property Revenue, Occupancy Rates For Airbnb Cities, Detailed Airbnb Pricing Information, Daily Vacation Rental Demand, Top Income Rental Properties. While some of this information is now being given to you directly through Airbnb, Airdna is still worth the price point if you really love data!
(Resources are added regularly! Check back for more soon.)