I came home last night after a long trip filled with sunshine, cracked heels, windy drives and cannolis. I saw spirit and shadow emerge in people at wine tastings. I danced at sunset on the beach. I stayed at Airbnbs that added vibrancy to my heart, and others that left me feeling pale and constricted.
And then, I came home.
I had four sets of Airbnb guests stay at my place while I was gone. When I come back from long trips, I often struggle with this feeling of emptiness; usually I stay in Airbnbs too, so I sometimes feel like I'm stepping into yet another one. I want to eliminate this as soon as possible.
It usually only takes a night or another day maximum. But, doing these things helps speed up the process of slowing down, and soaking in the loveliness of being home.
Sit down and read your guest log.
After entering my place and greeting it with a warm, "Hello, love," I put all my stuff down, sit on the couch, and open up my Airbnb guest log.
For my log, I use a journal that my very first Airbnb guest gifted me, and in a Post-It note on the front I direct guests to feel free to read prior entries and sign it if they like.
Here's an entry I found upon my return home: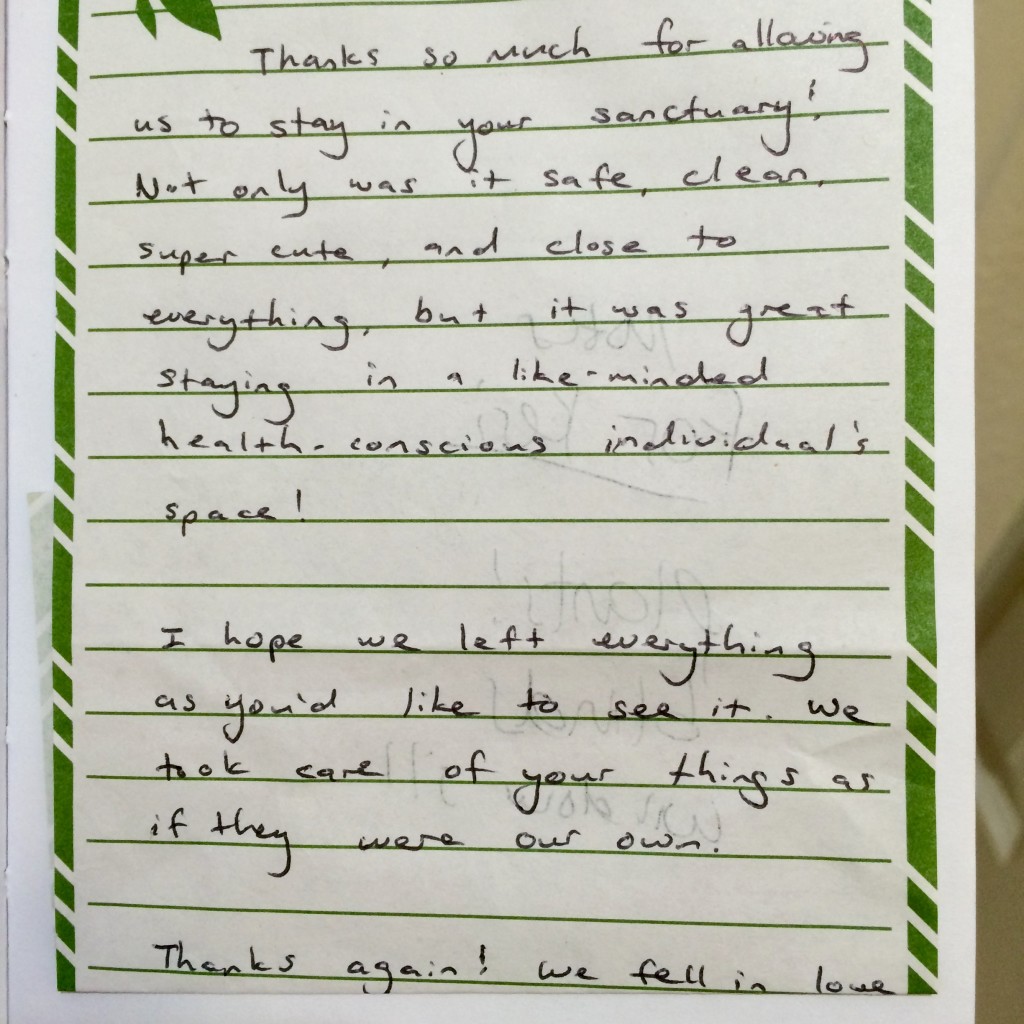 While you might think it would be more logical to quickly hide these "guest things" away if I'm wanting to ground in my home, looking at this log helps remind me why I do this.
It reminds me that I'm giving guests an experience they never would have had—and hopefully, it's filled with plenty of wonder and magic.
Light a candle, incense or sage.
Scent is incredibly grounding and has long been used to bring people into certain states of mind, whether for meditation or to call forth a memory or state of awareness. I have a certain natural (and expensive!) candle that I hide away when my guests are here. It's just for me. Its scent makes my home feel warm, nurturing, centering.
Note: Some people might think, even reading my blog, that you have to give your guests all of yourself to make them have a good experience. That isn't the case. Everything is about balance.
Keeping some things sacred for you will only enhance your experience and your willingness to be open with clear energy for your guests—they will pick it up if you restrict everything with dozens of "NO this, NO that" rules, but this doesn't mean you can't politely tell them that certain shelves are private.
Light a grounding scent (or sage your place to clear the energy) and soak it up. You're home now.
De-prep guest mode and start making things yours.
Place your guest's sheets in the laundry (that is, if you don't use a cleaner after your last guest). I prefer to do the last cleaning—I do this because I like to not be completely ignorant of how guests leave my place, even if it's only the last in a set of four.
Put away your welcome guides, city guides and house info sheets (I hope you've got these! If not, I'd love to help you create them.)
Spread out the things that make your place yours. Replace the local city magazine with the books you're reading, move your plants back to where you like them, their life-filled tresses swinging over your desk.
Go ahead and be you. It's that energy that attracts ideal guests to your home in the first place.
---
Thanks for reading! Have a question that wasn't answered here? If you'd like more specific help, I'd love to work one-on-one with you. Or, if you want to work collaboratively in a group with fellow motivated hosts, find out if the next Abundant Hosting Mastermind group is open. I also wrote a book, Cleaning Up, where I give you the nuts and bolts (and so much more) of finding your perfect turnover assistant, thereby upleveling your profit and success on Airbnb. Have a beautiful day!
How to Welcome Yourself Home: The Traveling Host's Guide