Update Oct. 2015: "Arrival" is now also phrased as "Check-In" on Airbnb. They are the same thing! ;)
If you travel a lot, use a lockbox for your guest's entry/exit, have your turnover assistant greet your guests, or otherwise are not able to meet your guests in person—how do you create a personal connection with them?
How do you make sure they feel confident, safe and satisfied—satisfied enough to write you a raving review filled with 5-stars across the board (particularly in Communication and Arrival)?
In this post, I'll show you some easy ways to do just that.
I have a confession to make.
I've only met one of my guests in person. And yet—
I've never received anything other than 5 stars in the two categories that are often thought to be dependent on in-person connection.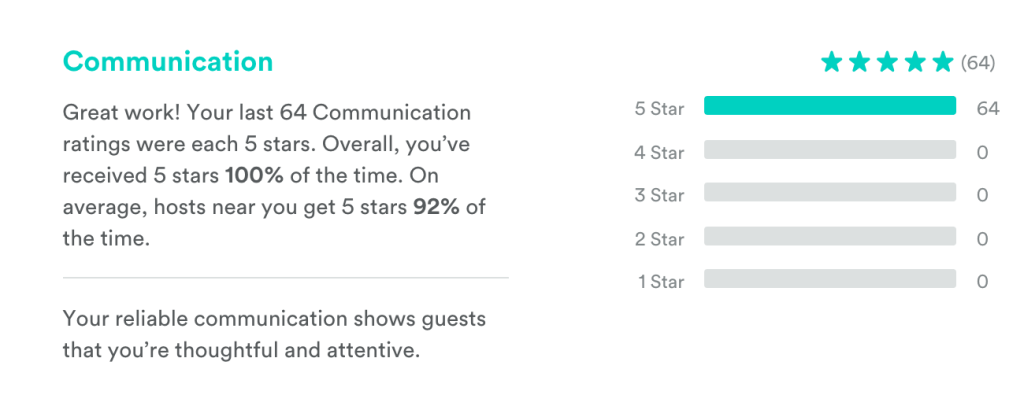 (These are real screenshots taken from my personal Airbnb dashboard page on Oct. 21, 2015.)
Recently, I received this raving review—from someone I never met or even chatted on the phone with:
Amy's condo was in a perfect location. Her space is full of positive energy and charm. Even the water cooler has a smile to help you stay hydrated at altitude. :)

Amy was easy to work with via text and emailed thoughtful instructions and tips for the city ahead of time. She also left them printed for out as well for easy access. Incidentally, she recommended great restaurants.

We felt like guests in a friend's home. Thanks so much for welcoming us!
We felt like guests in a friend's home.
How can you get reviews like this without even meeting your guests (or even talking to them on the phone)?
1) Write a descriptive, authentic personal profile.
On your profile page, make sure you tell your guests how you show up in the world. I distinctly remember the profile of one host I stayed with in Palm Springs who was an actor, and found Airbnb to be the most delightful thing he's ever discovered. He told the story of how it changed his life in his profile, and it added soul to his listing. I never forgot it.
On my profile, I talk about my business in which I help people live their full selves through self-inquiry and self-expression. Knowing a little bit about my worldview and my work helps people feel more connected to me. As a bonus, it also ends up attracting like-minded people to my place (here's more on how to do that).
2) Choose the method of communication that works best for you.
I'm definitely not advocating that you don't communicate with your guests at all. I do think that if you're not going to meet your guests in person, you should choose a method that you can be consistent and reliable with.
For me, that's texting. Sure, some people don't like it—but I always give them the option to call.
Here's how I phrase it in my personal email, referencing my homemade guides:
During your stay, if you have any questions, please refer to my Airbnb listing description/reservation email, as well as these two guides. If your answer is not there, I am always available at ###-###-#### (text preferred, as I'll likely see it faster)!
This statement, combined with my first communication being a friendly welcome text, has guests responding via text 98% of the time (which is an actual calculation—one couple out of my first 50 chose to call instead of text me back).
Being an entrepreneur, I'm not always available by phone—I'm often flying, meeting, playing, creating—but texting is the method I can most easily attend to. It takes minutes for me to answer a concern via text message.
Which method works best for you? Email, phone, text? Which method will help you be most responsive to your guests? No matter what it is, if they feel you're 100% reachable, they'll thank you for it.
3) Send people detailed information in one place.
I recently stayed at a gorgeous fairytale castle in Venice as a guest on Airbnb. Everything about the stay was wonderful—except one major thing.
The information was completely scattered. One message told me what the door code was. Then another message the host and I chit-chatted. Oh but wait! A few messages later, she told me what the gate code was.
This made getting in and settled really difficult. Sure, the information is all there—but when you're traveling, you want everything in the same place, instead of standing at the door loading emails and scrolling through messages. And once you're inside, you want to know how to use things that might have house particulars/quirks to them, too.
Make sure your information is in one place, all together, in one guide. (I give people blueprints for this in my coaching calls!)
4) Check in with guests 1-3 times during their stay—not more.
Guests do want to feel like you actually care that they are in your home—but they also don't want to feel bothered on their vacation.
Here are the three direct methods of communication I engage in (after an initial detailed email with guides, plus leaving printed guides out for their perusal):
A welcome text, letting them know you're available if they have trouble arriving.
A text on the morning of their departure, wishing them safe travels with hopes that they enjoyed their time, and a gentle reminder of the check-out time. Often, I include local brunch suggestions based on their dietary preferences and day of the week.
This third direct communication is a maybe, and should be allocated for times when: a package is arriving and you want them to put it inside, some fresh water is being delivered and you want to notify them to bring it in and feel free to drink it, a maintenance repair has to be done and you want to verify this is ok with them, etc. Save this one for necessity—don't blow it on, "Hope you're having a great second day, heard it's sunny out, what're you up to?"
Follow these rules, in addition to making sure you have detailed guides emailed and printed for them (ask me more about this!)—and  you'll be golden.
---
Thanks for reading! Have a question that wasn't answered here? If you'd like more specific help, I'd love to work one-on-one with you. Or, if you want to work collaboratively in a group with fellow motivated hosts, find out if the next Abundant Hosting Mastermind group is open. I also wrote a book, Cleaning Up, where I give you the nuts and bolts (and so much more) of finding your perfect turnover assistant, thereby upleveling your profit and success on Airbnb. Have a beautiful day!
Get 5 Stars in Communication & Arrival—Even When You Never Meet Your Guests