After the acquisition of Homeaway by Expedia to the tune of $3.9 billion, property owners and hosts are left wondering—what will happen to those listings? How will they change? How could their revenue be affected?
And as an Airbnb host, you might wonder—what will happen if Airbnb gets acquired someday? What will happen if they change their whole model (as they often change their internal structures regularly without telling us first…) and the income we rely on to support ourselves and our families takes a massive hit?
Matt Landau of the Vacation Rental Marketing Blog encourages people who are passionate about hosting to make sure they have their own independent website for their vacation rental, and says: "Anyone who does NOT begin building their own sustainable marketing portfolio is putting that passion at risk. This Expedia merger should be just the excuse you need."
If you're going to list your properties on an independent site, Homes and Rooms is here to help.
Homes and Rooms is a service that's perfect for people who want to use (or are using) an independent website to present their homes, and for people who manage their properties on multiple platforms—or, an overlap of the two!
To me, Homes and Rooms stands out because they're not trying to get in the way of the owners and the guest. They're not a "management company"—they believe that the sharing economy is here to stay, and want to empower owners as opposed to take over their properties.
I chatted with Barry Sacks, founder/CEO of Homes and Rooms and a delightful fellow who loves to help hosts and truly believes we can all benefit and become more empowered through listing our sites independently.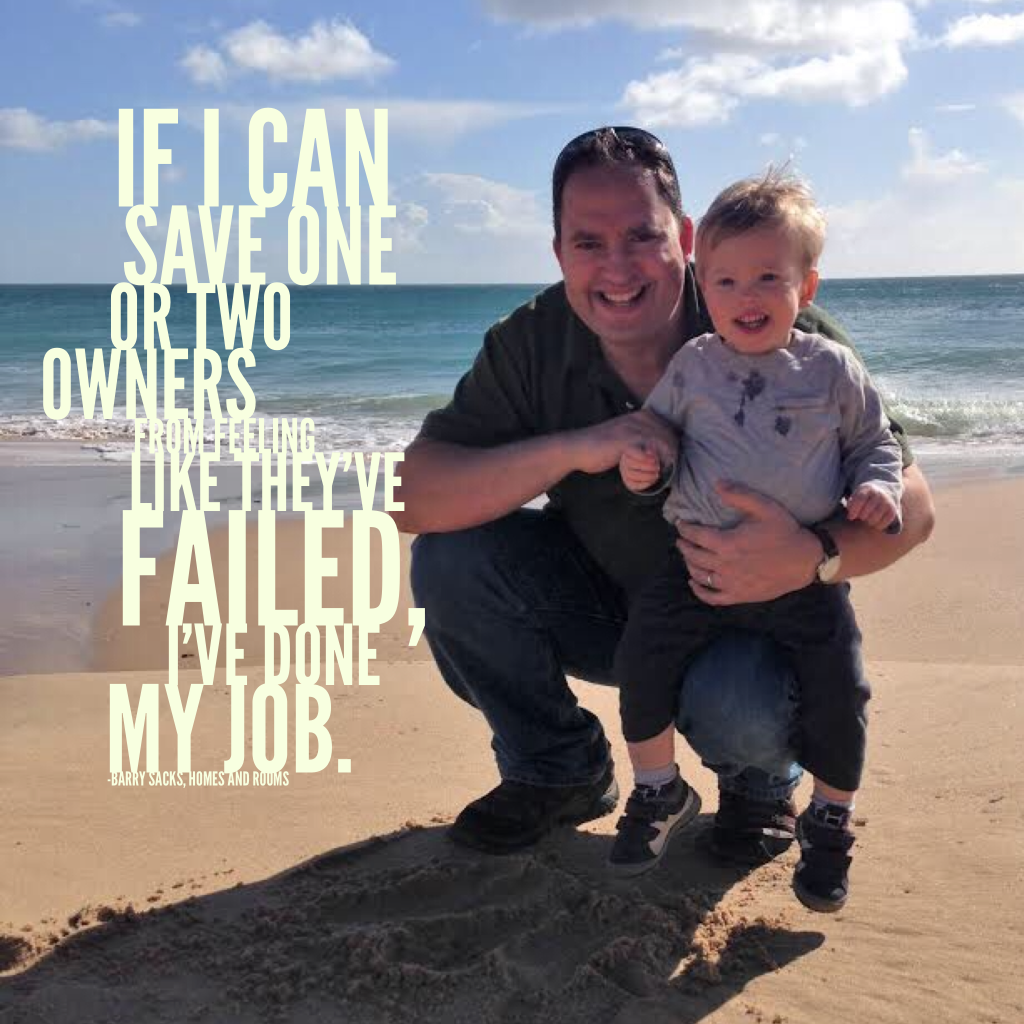 Read on to find out how Homes and Rooms can help you.
The Abundant Host: For people who don't know about your company, tell us how it works and how it can help people who want to become Abundant Hosts.
Barry: Homes and Rooms is specifically developed to support independent vacation rental owners and small independent management companies. It came about as a result of property ownership ourselves—there weren't a great deal of services that were purely focused on serving owners' needs.
We provide a range of services to effectively manage people's properties—like consolidating their listings, communicate using autoresponders and preparing live quotes for customers—all without taking the relationship between the guest and the host out of the equation.
Which is so important! Thank you, Barry. Tell me more about the top three purposes of Homes and Rooms.
Number one is to maximize profitability for our users, and number two is to help hosts understand which marketing channels are working best for them.
Lastly, our purpose is to help you save time. We all receive a lot of inquiries… the difficulty that owners face (like myself and yourself) is which guests to accept and which to quote. We see a lot of owners send out non-personal notifications ("thanks for your inquiry! We'll get back to you.") With our service, we provide a quote immediately, which helps guests choose your place faster.
How does the platform choose which guests to send quotes to? Is there any process specific to Homes and Rooms for that?
We allow the channels used (like Airbnb) to best do that. Guests are vetted on those platforms to make sure that they're suitable to both host and guest. We don't attempt to override the platform defaults—neither hosts nor guests need any more barriers to the process!
Once you allow the system to notify you, at the earliest opportunity you can decide how you wish to respond—you do this over your mobile and send out a quote immediately to the guest.
Right. And not only just accepting, sometimes you need to decline as soon as possible to open up your calendar.
The rejections that you send out are just as important as the responses. You get a feel for the type of inquiries you're receiving.
When I look back, for example, at April 7, I've had 200 inquiries that include that date, and I wonder why—if you're able to see that even though you keep declining you continue to get requests, it's very insightful, you can increase your rates for that period of time.
How can Homes and Rooms help people experiment with rates and seeing which platforms are best?
We give you a single view of your property or properties, and help you assess which ones are working best for you.
For example, some of our customers are on 10-15 channels—by integrating them, they get updated automatically. This lets people not have double-bookings. You can view a calendar for inquiries and rejections as well, not just for the things you accepted—in Airbnb, you don't get to see data on your declines.
So, you can see a single day and the 91 inquiries you got for that day, even if you turned them down—and then you can experiment with different rate models. I don't know another service that does that.
Are you yourself a host on Airbnb?
I am! I have property on Airbnb in Florida. I try and list on as many channels as I can, so I use Homes and Rooms to see how it works and improve. Also, I use Airbnb and HomeAway as a guest to gain that perspective as well, and personally love to travel and always look to use vacation rentals.
What do you think of how Airbnb works as compared to the other platforms you've used?
Clearly, Airbnb is championing and leading the sharing economy—the communications with guests is a lot stronger. Some of the others still try and commoditize vacation rentals as a hotel room, but there is still a sense of community for Airbnb hosts and guests. We have a lot more feedback and feeling of camaraderie and connection between guests when it comes to Airbnb.
For us, it's the personal feedback that spurs us on to do what we do.
How does your company encourage embracing the community-centric culture of Airbnb?
We definitely do, because we're trying to provide a service to the owner—we're not trying to cut the owner out of the process.
We're not shouting from the rooftops that we're providing the service of self-management of properties—so, we're not trying to get in the way of the owners and the guest.
We're not a management company, we want to encourage owners to self-manage and communicate directly with guests. When booked through Homes and Rooms we don't withhold the funds from the owners; the owner can take responsibility. We support the individual listing site's requirements, and don't wish to prevent anyone booking through them but if the guest is someone who's stayed with you before, there's no reason why they shouldn't be able to book directly with you next time.
And, we definitely do see a lot more opportunity for owners to make more profit if they have their own website.
Having your own site is like taking control of your listing, then?
Yes. If we rent our property out, we are a business owner. We provide a business service effectively.
Airbnb sometimes gives this veneer that hosts are not running a business… but really, we are.
The sharing economy has allowed us all to be independent business people. It's important for owners to still feel they're the owner, and not providing a commodity.
At the end of the day it's our property, and we should be able to feel like we're getting the lion's share.
Why do you think it's important to have your own website?
We don't know what the future holds. Airbnb introduces new things overnight and we're not consulted on them. Those big guys see our properties as hotel rooms and they wish to commoditize this rental market.
There's an emotional attachment to the service we offer our guests and to our properties… this passion can't be boxed up as you would in a hotel room. There's no emotional attachment to a box in a building.
The sharing economy is about emotions, and expression of those emotions through our properties. If we don't have our own websites, we have to accept whatever changes they decide. The channels are marketing channels for our businesses—we're not just the warehouse stock. I think it's very important that owners have their own website and that they feel in control.
We provide a service, but you have control of how everything appears. We're fortunate—you and I are in the space—but a lot of owners don't have that, we shouldn't assume they know how to market themselves.
Wow, thank you for sharing that, Barry. All right, so now on to some backstory—how did you get started with Homes and Rooms?
I'm the founder of the business; prior to that I owned a software business providing web-based services and helping to develop bespoke software services. I saw the opportunity some years back and in Sept. 2013 took the decision to create Homes and Rooms—we had some loyal trial customers to validate our thinking of what owners may need. We've been developing the service for a long time with a small group of owners/managers to make sure we get it right.
It was really only in July/Aug 2015 that we opened to the public. We didn't want to provide a service to owners that wouldn't serve them well. We don't want them to still need to keep a spreadsheet or paper diary for their bookings.
We are UK-based company with representation in the U.S., but we support owners from all over the globe.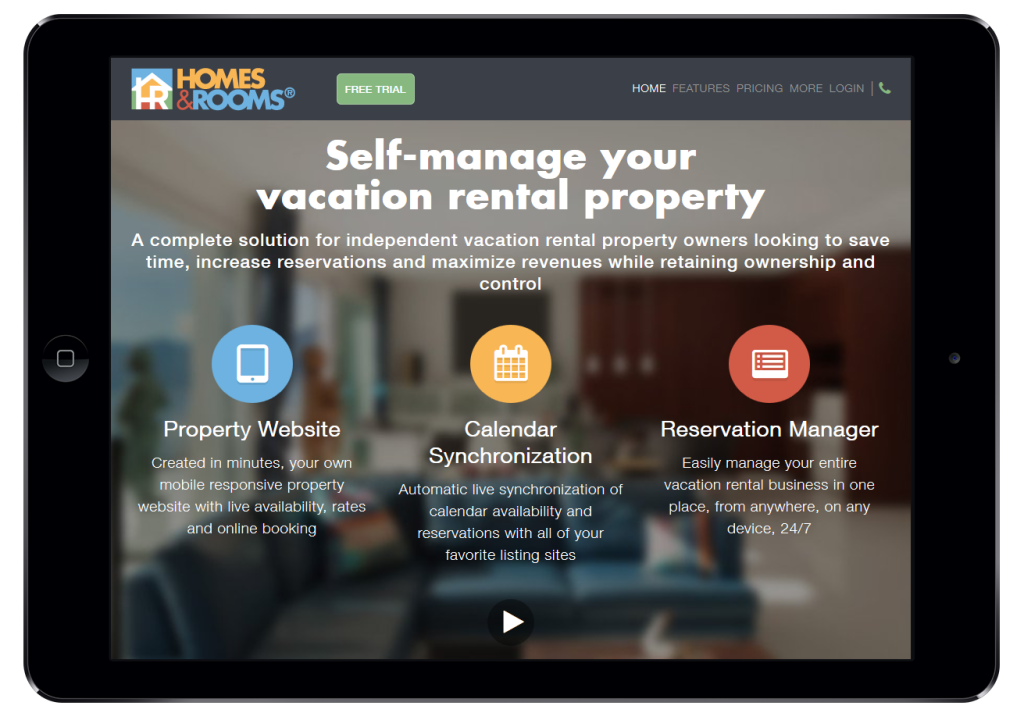 Ok, so let's say I have a listing on Airbnb, VRBO, etc. How do I get started with Homes and Rooms?
It takes only about 7 minutes. We invite you to trial the service for 14 days with no obligation and no credit card needed. We want you to go and explore the service. We've got a video that shows you how the process will work. It really is very simple.
You can accept all of the defaults or modify what you need to, you can state your listing sites, and we ask you for information from them to be able to sync up your Homes and Rooms calendar but we don't need any sign-in information for your platforms. We then give you an email address that you can use on those sites to bring your inquiries directly into our platform or you can keep the email address you are already using. Now we have the information needed to quote guests as well as to support updating your calendars.
If the sites you list on use iCal (such as Airbnb or VRBO), we then import all of the reservation dates that you already have and block down your calendar where necessary. We provide a number of plug-ins for your own website (or the one we give you) that provide you with live availability checkers, live-quotes, online booking form, rates, contact form, reviews, Google maps, etc… this can be simply enabled for each property.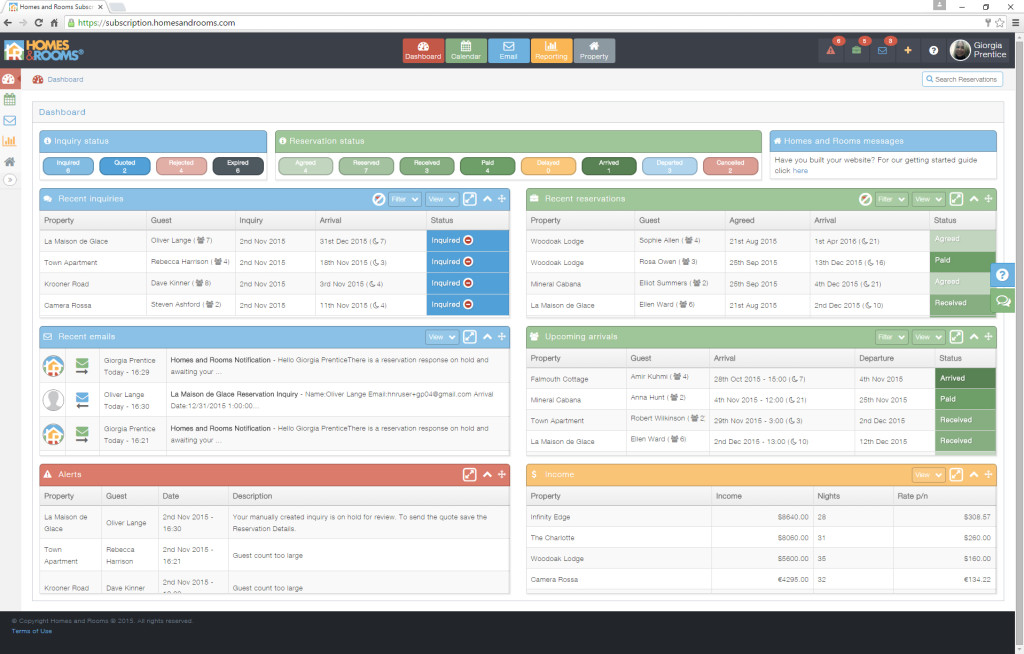 You can create custom options for your booking form—perhaps you'll want to provide a basket of fruit, or milk, tea or coffee… you can offer those to your guest as well. You can choose whether you want to use a website that we give you as part of the service or use your own pre-existing website—you can then use our plugins on there.
We can also convert your website to a Homes and Rooms website in 24 hours or less or create one from any property listing.
If people no longer wish to use the service, we would obviously like to know why but all of your information is provided to you—the reports on your listings, etc., are always yours to keep and are downloadable at any time.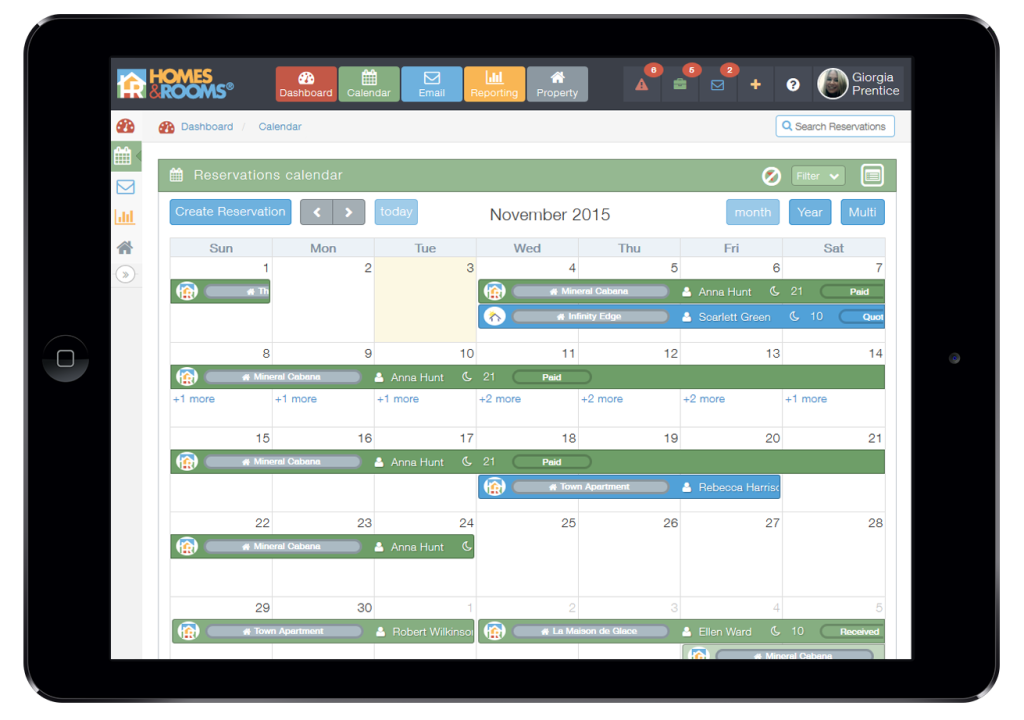 To you, what does it mean to be an Abundant Host?
I get a lot of pleasure out of renting out our homes, it's something I feel very passionate about. I don't see myself ever not doing it, I've been doing it since 2002, so 13 years. I've been very lucky to make systems and processes that make hosting more efficient. It has been very profitable but also extremely pleasurable. It's very fulfilling.
Yes, I agree.
I personally funded Homes and Rooms, and I think it's given me the opportunity to help others. I'm helping hosts rather than guests, this service makes it so easy to run this hosting business of yours. That's where I get the pleasure, even if I just save one or two owners from feeling like they failed… I've done my job.
I offer whatever support and assistance that we can. It is part of my crusade to build a community of very happy and successful owners.
How does Homes and Rooms stand out from the crowd of other external services marketed to vacation rental managers?
We focus specifically on the independent owner and manager. That's been our focus. That's been our purpose. Where there are other services, there are plenty of large property management companies, and they often want to take owner responsibility from you. They want to market to guests themselves—I think our service is focused on the owner that wants to self-manage. There aren't that many platforms that have that primary focus.
Right. The thing about the sharing economy is it's very participatory. We want to participate, even if we may have 4-5 properties and need help. It saves us a lot of time, but it doesn't make us feel disconnected.
That's a great description you just gave; we are participants in this sharing economy and big players. Dwellable was taken over by HomeAway, and HomeAway by Expedia. Owners that list solely on one platform should realize they are bound by that and potentially their business could be wiped out overnight.
We just want to be the service of choice for independent owners who want to self-manage their properties. We're never going to be the product for the professional investor who buys a large condo block. We're for that personal owner who is renting out their home or beloved vacation home.
Yes, I'm not a fan of people buying up properties just to use them for Airbnbs! That's not the purpose of vacation rental, to me.
It's faceless. There are so many opportunities presented to owners where they reluctantly give up real ownership and control of their properties. But there's a way they can successfully do this and be profitable and not faceless.
What's the first small, quick thing people can do on Homes and Rooms to enhance their hosting experience?
We do have a blog, so I invite people to that. We try to post a couple of insightful articles a month: industry news, articles focused on vacation rentals, posts about mergers in the industry, tips to new owners, and interests and insights for people who are considering renting out their property.
Alongside I run a personal blog where people can register for a free eBook with tips and insights.
What kind of communication do you have with your customers?
We have full support on Homes and Rooms: live chats, emails, etc. We won't turn anyone away, we try to answer every question. Our telephone number is right up there on the header on every page.
I see you have a guarantee that if people haven't seen an increase in reservation revenues at the end of the first year's subscription, they get to use Homes and Rooms the following year for free.
Yes! Honestly, some other services are extremely and unnecessarily expensive! Ours is only from $19/month. Just continue to use it for a year until you can see the value of it. After a year, if they feel like they haven't gotten any value, just use it for another year for free. If I can save someone time sending out those "I'm booked, sorry, I can't host you" messages… it really saves so many hours.
For sure! And sometimes that takes a while, especially if you have to verify with other platforms.
When you're across two or more channels, if you have to remember what you might be charging on one site versus another, etc. it's challenging to be able to respond quickly. A system will send a full quote out immediately.
And it doesn't remove the personal aspect. Some of those systems are pretty tightly templated, but we have full customization over those emails, so it's still a personal response from you. We don't put any branding on that. We don't try to interfere with the relationship between owner and guests.
Fabulous. Is there anything else you'd like to tell The Abundant Host audience about Homes and Rooms?
At the end of the day, go and try it and let us provide whatever support we can to make you an even more successful host. We're trying to make it so that you can communicate your own authenticity in a way that's easy and efficient for you, without removing you from the process so you're blind to it—that's what our service can provide.
Thanks for reading, guys! If you'd like to try out Homes & Rooms, be sure to click on the link/s in this article to start a completely free 14-day trial (not even a credit card necessary!).
This is a sponsored post. If you're a like-minded and aligned company, product or service and would like to sponsor The Abundant Host through a multitude of avenues including sidebar advertising, posts and more, head here!
---
Thanks for reading! Have a question that wasn't answered here? If you'd like more specific help, I'd love to work one-on-one with you. Or, if you want to work collaboratively in a group with fellow motivated hosts, find out if the next Abundant Hosting Mastermind group is open. I also wrote a book, Cleaning Up, where I give you the nuts and bolts (and so much more) of finding your perfect turnover assistant, thereby upleveling your profit and success on Airbnb. Have a beautiful day!
The Power of Independent Vacation Rental: A Chat With Barry from Homes and Rooms