One of my core focuses right now is to bring you more community through The Abundant Host. I want us to be able to brainstorm together, to learn from and help each other—so I'm taking actions in Fall 2015 with this in mind.
And on this front, today I have some exciting news for you…
I've been invited to the Airbnb Open 2015 in Paris (Nov. 11-14)!
I'll be there, milling about, taking notes for you from all the best workshops and enjoying myself thoroughly. :)
In addition to being at the conference, I'm hosting a special event just for The Abundant Host community: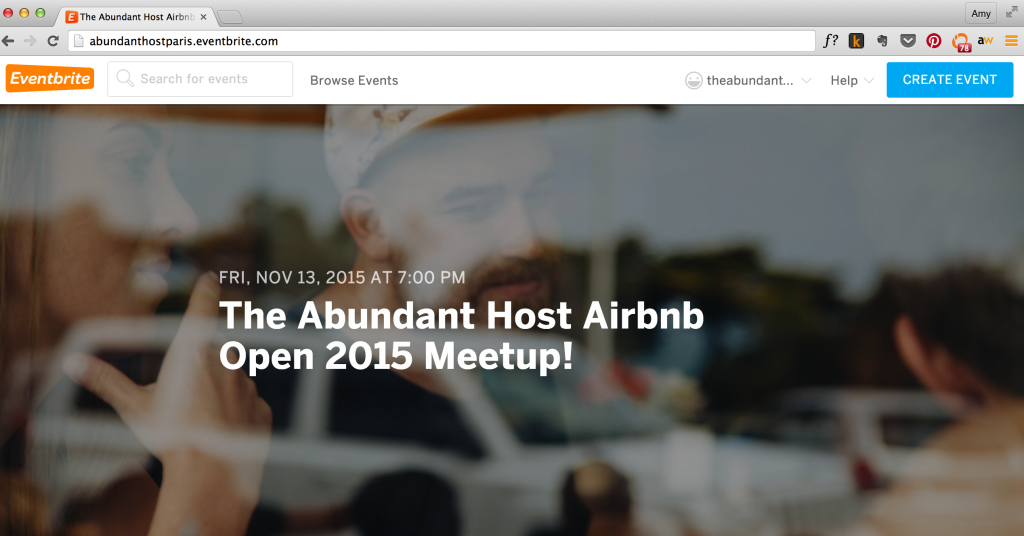 Nearby to the Parc de la Villette (the venue for the Airbnb Open) in Paris, I'll be hosting this meetup on Friday night so we can talk honestly and openly about our challenges, insights, issues and wonderment.
Plus, if you have in-depth questions that you've been too shy to ask elsewhere, this is the place to come! You'll get real, honest answers and resources directly from me.
BONUS: Anyone who comes to the event (and comes up to say hello to me, Amy) will recieve a FREE copy of my book ($14.99 value): Cleaning Up: How to Work With a Turnover Assistant to Uplevel Your Profit, Freedom and Success Hosting on Airbnb. It's a jam-packed, must-have, awesome read, and I'm excited to share it with you!
Note: This is not an official Airbnb event, and The Abundant Host is not affiliated with or supported by Airbnb.com or any of its partners. That being said… you're going to have a fabulous time. :)
RSVP now (required, so I know how many of you I can expect!) and I'll see you there.
---
Thanks for reading! Have a question that wasn't answered here? If you'd like more specific help, I'd love to work one-on-one with you. Or, if you want to work collaboratively in a group with fellow motivated hosts, find out if the next Abundant Hosting Mastermind group is open. I also wrote a book, Cleaning Up, where I give you the nuts and bolts (and so much more) of finding your perfect turnover assistant, thereby upleveling your profit and success on Airbnb. Have a beautiful day!
The Abundant Host Goes to Paris! Clink Glasses With Me at the Airbnb Open