I'm so honored to bring you this exclusive interview with the wonderful Mercedes Brennan of 1 Chic Retreat. Mercedes helps vacation rental owners/hosts increase their bookings by using interior design strategies to make their home stand out from the crowd—plus, she's a damn good writer, which we at The Abundant Host very much appreciate!
The Abundant Host: Mercedes, you help Airbnb hosts by acting as their vacation rental interior designer. What are the first things you look for when you enter a home to do an initial review?
Mercedes: As soon as I walk into a vacation rental for the first time, I look for an instant feeling of "welcome." As soon as the door is opened, guests should be greeted with amenities that make them feel three things:
Excited to be there
Appreciated
At ease in the home
I completely agree. How do you accomplish this?
First of all, presenting a hand-written message on either a greeting card or chalkboard, will make your guests feel instantly appreciated and excited to begin their stay with you, especially if you include their names. Providing gifts upon arrival is a great way to make your guests feel instantly appreciated. Flowers, for example, have been scientifically proven to boost serotonin levels (the feel good hormone) in people that receive them, so by all means take advantage of that and have a freshly arranged vase ready when they walk in the door. Other gourmet goodies, such as handmade cookies, local coffee, a bottle of wine, or a jar of artisanal honey will go a long way in earning goodwill.
A handsome manual, explaining all details of how the home works, should be placed in a prominent location, such as a shelf in the entrance. Knowing where the manual is will put guests at ease. They will know where to go if they need the Wifi password or instructions on how to use the laundry machine, etc. I personally favor a wall mounted organizer, with a special slot, for the manual, such as this one: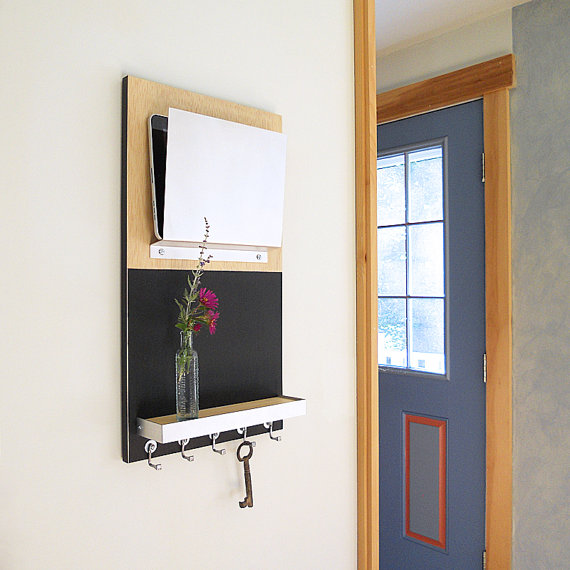 As we've already discussed personally, I adore your blog, 1 Chic Retreat. I think it's one of the few blogs out there that speaks with heart and soul on the subject of vacation rentals. How has your blog helped your business?
Thank you! That means a lot to me. I think of 1 Chic Retreat as my business instead of something that generates business. Sure, I do get clients from my subscriber tribe, but my main focus is to teach vacation rental owners how to use smart, inexpensive interior design strategies to book more people into their vacation rental, convert more folks into repeat guests, and get more 5-star reviews. All on their own. Design is teachable and I love empowering people to do it themselves.
Later this year, I plan to launch an online course giving owners a proven, step-by-step design formula for creating a vacation rental that guests wait in line to book—in precise detail. It will show them exactly what to do every step of the way, right down to how to create the most impactful first impression to furniture layout to how to make a bed—all without spending a fortune.
Awesome. Do you currently host on Airbnb? If so, what's one of the most serendipitous experiences you've had hosting?
I don't currently host on Airbnb because I no longer own a vacation rental. And—get this—I no longer own one because serendipitously, a guest liked our vacation rental so much that they made my husband and me an offer we couldn't refuse and we sold it!
I loved owning a home stay and am currently looking for another one. If any of your lovely readers has one to sell, let me know!
I will! Ok, here's a doozy: What's one piece of advice you offer to clients that you yourself have trouble taking?
I always advise—always—that owners have sharp knives in their kitchens. Many guests rent home stays for the sole purpose of being able to cook and having good quality, well-maintained knives are awesome. I tell hosts to invest in a good steel and use it at least quarterly. Even better, hire a knife sharpener to come in and do the job on a regular schedule.
That being said, I made stroganoff tonight with the same dull chef knife I always do. I think I need to start thinking of myself as a guest, right?
Ha! :) Yes, I hate when a place I stay in doesn't have sharp knives, or worse, has no knives at all—it really affects the experience. I recently wrote a piece about an Airbnb I stayed in that "had no soul." Where do you think the line is between a place that is filled with personal belongings and a place that is so sparse it feels sterile? How can people dance gracefully along that line?
Good question and one that I encounter a lot. It seems that people either go one way or the other, and there's not a lot of in-between. The important thing to remember is that guests typically want a tiny bit of "host" in every home stay, otherwise it starts to feel like a hotel. Furthermore, if owners leave a subtle footprint, guests tend to be more respectful of the home.
For example, one tasteful family photo—no posing, please—mounted on a wall along with meaningful artwork (no big box store art), describes the host to the guests. There is a very tiny bond formed; that bond is important for good reviews down the road, as well as repeat bookings. Adding character to a vacation rental, through books, artistic photos, sketches, interesting pottery, is a great way to make a home stay feel personal. Such arrangements emit a boutique feel to the home, which in turn makes the guest feel appreciated. Always remember your guests are seeking an experience, not just a bed to sleep in.
I agree 100%. Mercedes, what does it mean to you to be an Abundant Host?
To give is to receive. By that I mean, if you make your guests feel really special, giving them an experience they won't forget, they will reward you with repeat bookings and gushing guest reviews.
What's one small, quick actionable thing hosts could do right now to make their hosting experience better?
Put supremely soft, white sheets on the beds with two pillows for each guest. People prefer white sheets because they seem cleaner and crisper, more professional. And the softer the better. Invest in high thread count sheets. You'll get paid back with abundant guest reviews.
Isn't Mercedes lovely? I think she's lovely. :) For more décor tips and strategies, head over to Mercedes' blog at 1 Chic Retreat.
Have a comment for us? Tweet to us here: @TheAbundant Host + @1ChicRetreat
---
Thanks for reading! Have a question that wasn't answered here? If you'd like more specific help, I'd love to work one-on-one with you. Or, if you want to work collaboratively in a group with fellow motivated hosts, find out if the next Abundant Hosting Mastermind group is open. I also wrote a book, Cleaning Up, where I give you the nuts and bolts (and so much more) of finding your perfect turnover assistant, thereby upleveling your profit and success on Airbnb. Have a beautiful day!
Why Décor Matters in Your Airbnb: An Interview with Mercedes Brennan of 1 Chic Retreat